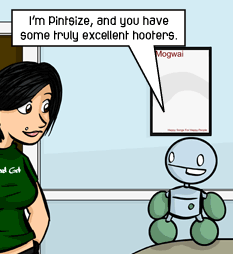 PintSize is an IRC bot and WordPress plugin for voting on what's playing on RynoTheBearded's OO Radio.
The source code is available on GitHub.
Launch HTML Audio Player
Now Playing: Cloudfactory Soundsystem - Ray's Swing
Previously...
2023-09-28 05:14:00 UTC: Shironeko (????) - Hohoemi braver (Smile braver/????????)
2023-09-28 05:10:07 UTC: Oxymorum - See The Signs
2023-09-28 05:07:04 UTC: Space Recorder - You Said I Said
2023-09-28 05:03:31 UTC: Thomas Prime - Seven Dead Samurai (Co-Produced By P.R)
2023-09-28 05:01:50 UTC: Brock Berrigan - 05-Dragon's

Disclaimer: This service is NOT affiliated with Jeph Jacques or Questionable Content.