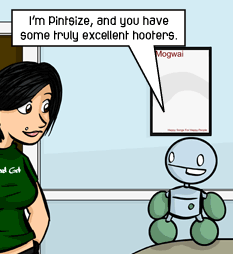 PintSize is an IRC bot and WordPress plugin for voting on what's playing on RynoTheBearded's OO Radio.
The source code is available on GitHub.
Launch HTML Audio Player
Now Playing: MoreEats - Saint Pete
Previously...
2022-08-08 16:15:47 UTC: Nick Davies - Try to Remember
2022-08-08 16:13:04 UTC: The Record - Feed the Pig
2022-08-08 16:09:11 UTC: new time country kitchen - Goin' Across the Sea
2022-08-08 16:05:38 UTC: new wave syria - Out of Ammo
2022-08-08 16:02:35 UTC: Neon Bicycles - Used to love

Disclaimer: This service is NOT affiliated with Jeph Jacques or Questionable Content.